Officiate Weddings in Tampa, Florida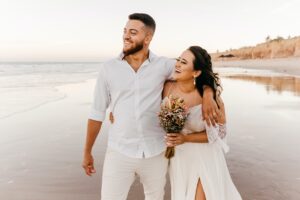 Located inside beautiful Tampa Bay on the western coast of Florida, this Gulf Coast city is home to fantastic food, beautiful wedding venues, and cultural points of interest. Also, it packs a punch of zesty nightlife reminiscent of its southern sister, Miami (provided the city is not under lockdown). Whether you are looking to have a low-key beach elopement or an extravagant no expense spared huge celebration, Tampa has plenty of available options.
More important than whether you choose to have your wedding wedding ceremony is who you choose to officiate your wedding. Consider having a family member or friend become an officiant to officiate your wedding. That would add a truly special element to your wedding that has no substitute. And having someone trusted and close to you perform this important function is much easier than you might think.
American Marriage Ministries ordains people to perform marriage and has thousands of AMM ministers who have already officiated weddings in Tampa and all across Florida. Even better, ordination with "AMM" is free and beyond ordination they provide all the resources necessary to help train up first-time officiants. Keep reading to to learn more about performing a legally-binding wedding ceremony in Tampa as an AMM ordained minister.
STEP 1: Get Ordained with American Marriage Ministries
The Florida Statutes § 741.07 allows for the following officials to officiate weddings:
(1) All regularly ordained ministers of the gospel or elders in communion with some church, or other ordained clergy, and all judicial officers, including retired judicial officers, clerks of the circuit courts, and notaries public of this state may solemnize the rights of matrimonial contract, under the regulations prescribed by law. Nothing in this section shall make invalid a marriage which was solemnized by any member of the clergy, or as otherwise provided by law prior to July 1, 1978.
(2) Any marriage which may be had and solemnized among the people called "Quakers," or "Friends," in the manner and form used or practiced in their societies, according to their rites and ceremonies, shall be good and valid in law; and wherever the words "minister" and "elder" are used in this chapter, they shall be held to include all of the persons connected with the Society of Friends, or Quakers, who perform or have charge of the marriage ceremony according to their rites and ceremonies.
If you have been asked to officiate a wedding, your first step is to get ordained with American Marriage Ministries. AMM Ordination is free, takes only a few minutes, and meets the Florida Statutes § 741.07, giving you the legal ability to solemnize marriage.
Once ordained with AMM you will qualify to officiate weddings within the category of ordained clergy. Our ordination authorizes you to officiate weddings in Florida (and everywhere else in the US).
Officiant Registration in Tampa
According to Hillsborough County Clerk's website, county clerks, public notaries, ship captains and ministers can perform wedding ceremonies. But if you don't fall into any of these categories, don't sweat it. You can get ordained with AMM to become a legal minister in just a few minutes.
When it comes time to perform your duties as the officiant, Hillsborough County may ask you to present your ministerial credentials, which AMM provides for a small fee. (You can call the county clerk's office before you perform the ceremony to ask if they will require you to bring the certificate in person.)
STEP 2: Prepare For Officiating the Wedding
Getting AMM ordained is the easy part. Your next step as the wedding officiant is to prepare for officiating the wedding ceremony. As the wedding officiant, there are two main things you need to prepare for:
Non-Legal Duty – Officiating the Wedding Ceremony
Legal Duty – Signing the Marriage License
Non-Legal Duties – You non-legal duties encompass all of the performative aspects of the wedding ceremony. How do I write a wedding ceremony? How do I get ready to perform marriage? What do I say at a wedding?
To learn the answers to all these questions and more, we recommend that you read through the officiant training pages on the American Marriage Ministries website. These resources cover all important aspects of performing marriage and is geared towards first-time officiants. You can also check out these pages for more ceremony prep info:
Keep in mind that practice makes perfect. The sooner you get started and the more time you allocate to practice, the better prepared you will be when it comes time to officiate the wedding.
Legal Duties – Your legal duties have everything to do with the marriage license. Your one legal job as the wedding officiant is to sign the marriage license for the couple. This is as simple as it sounds, kust complete and sign a piece of paper. That's it!
We understand how important it is to make sure the marriage license is properly completed. If you do find yourself confused by some of the fields on the marriage license, check out our page on How to Fill Out a Marriage License.
STEP 3: Officiate the Wedding
Regarding your performative duties, this is where you shine. If you have done your due diligence in preparing for the wedding ceremony, you will do an amazing job. In fact, you may have a lot more fun officiating a wedding than you might think. Many officiants that are AMM ordained to officiate one wedding eventually go on to officiating several. It's really a lot of fun!
Regarding the marriage license – The couple is responsible for applying for the marriage license. Make sure to double check with the couple before performing the ceremony. At some point on the wedding day, the couple must present to you their marriage license. Your job is to complete and sign it in their presence and any required witnesses. The marriage license can be completed before or after the ceremony, that doesn't matter. What does matter is that all the fields are completed properly and that it bears your signature.
Once the marriage license is properly signed, you have successfully performed all of your functions as the wedding officiant. Afterwards we recommend that you follow-up with the couple to make sure the marriage license has been returned to its issuance office.
Tampa Wedding Planning Logistics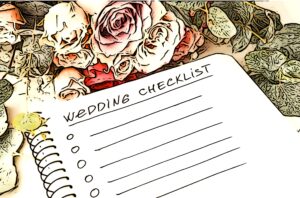 Tampa has a little bit of everything: loads of beach bars, nightclubs and restaurants, as well as some impressive music venues and museums. When it comes to choosing your wedding venue, Tampa's options can be broken down into Beach and Non-Beach.
You can get lost in the number of options from the former category. There are dozens of gorgeous private settings on the Gulf Coast, like resorts, hotels and boating clubs. You can start to narrow it down by reading about Tampa's best beaches, and seeing what jumps out at you.
One of our favorites is Honeymoon Island. It's perfectly suited name. This state park has four miles of gorgeous white Floridian sand, where you can say "I do" at sunset. Inland, you can also explore the pristine nature of the pine forest by taking a hike on Osprey Trail. It doesn't get any more romantic than this.
If you're not about a beach vibe, Tampa also offers some amazing venues away from the water that will make you swoon, like the Oxford Exchange — a trendy brunch spot and community hub, as well as a highly-rated, uber popular wedding venue in its spare time. Its high ceilings and black-and-white tile set the scene for a wedding that oozes Great Gatsby opulence. Or if you're envisioning more of a casual gathering, there are plenty of options perfect for that as well, like the Lange Farm, half an hour from downtown Tampa. Don't look at the photos of this venue unless you're ready to discover your deep inner yearning to move to the countryside and live in a farmhouse that you didn't know you had.
Transportation
Tampa isn't known for having good public transportation outside of downtown, so if you're from out of town, you'll want to either rent a car or plan to utilize Lyft and/or Uber, both of which are available. Depending on how much hopping around town you plan to do, renting a car may end up being the cheapest option, but be warned that traffic can be agonizing on the interstates and bridges, especially during rush hour, so allocate extra time to get from point A to point B.
Weather
If you're a Florida native, we don't have to warn you about the heat and humidity. Temperatures in Tampa stay below 100 degrees year-round, but the humidity and sun will make it feel like a sauna. Hurricane season starts in June and lasts until December, but most of the tropical storms hit between August and October. So, if you're planning a wedding, choosing a winter date is a safer bet. Skies are usually clear and temperatures stay in the comfortable 60s and 70s.
Tampa Marriage License Info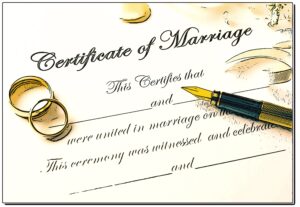 It is the couple's responsibility to file for the Florida Marriage License. That being said, below is important information regarding applying for a marriage license in Hillsborough County. If you need more clarification on what is meant by "Waiting Period", "Expiration", and "Return", check out the Marriage License Definitions page on the American Marriage Ministries website.
Where do I file for the marriage license?
Clerk of Circuit Court
419 Pierce St
Tampa, FL 33602
How much does the marriage license cost?
$86
How long must I wait before completing my marriage license?
72 Hours for Florida Residents. No waiting period for out-of-state couples.
When does the marriage license expire?
60 Days
Who returns the marriage license?
The Couple
When must the marriage license be returned after the wedding?
Within 10 Days