Officiate Weddings in Seattle, Washington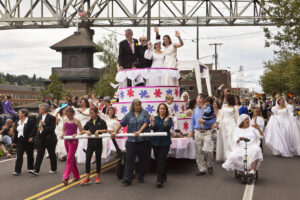 This Pacific Northwest city is one of the coolest places to get married in the US…so long as the wedding isn't in the middle of winter. That being said, between the mountain ranges, national parks, ocean, rivers, lakes, historic hotels, and that PNW culture, Seattle has so much to offer. Want to get married on a boat surrounded by Orcas, or seal your vows at the top of the Space Needle, you can make that happen.
More important than where you choose to get married is who you choose to officiate your wedding. Having a family member or friend get ordained to officiate your wedding is a special way to take your wedding wedding ceremony to the next level. And having someone you already know officiate your wedding is much easier than you might think.
American Marriage Ministries ordains people to officiate weddings and is even headquartered in Seattle, Washington. With thousands of AMM ministers who have already officiated weddings in Seattle and all across Washington state, you know you are in good hands. Even better, ordination with "AMM" is free and their website and books provide the best information available to help train up first-time officiants. So keep reading to to learn more about what you need to know before performing a legally-binding wedding ceremony in Seattle.
STEP 1: Get Ordained with American Marriage Ministries
The Washington Revised Statutes § RCW 26.04.050 allows for the following officials to officiate weddings:
The following named officers and persons, active or retired, are hereby authorized to solemnize marriages, to wit: Justices of the supreme court, judges of the court of appeals, judges of the superior courts, supreme court commissioners, court of appeals commissioners, superior court commissioners, any regularly licensed or ordained minister or any priest of any church or religious denomination, and judges of courts of limited jurisdiction as defined in RCW 3.02.010.
Washington marriage law stipulates that licensed or ordained ministers, clergymen, or pastors of recognized religious societies, and justices of the peace. As an ordained minister of American Marriage Ministries, you may legally perform weddings in Seattle, and in the State of Washington. Since local government officers may ask for proof of your credentials, we recommend that you purchase a Minister Ordination Package, which contains full proof of accreditation, as well as detailed document filing and officiating instructions.
After getting ordained, the state of Washington does not require any additional registration process. This means that your next step is to prepare for the ceremony. That requires meeting with the couple (either in-person or via email) to get a feel for what kind of ceremony they want, and collecting important details like how they fell in love, what kind of life they want to build together, and how they want the ceremony to reflect their worldview. For more information on this, check out our wedding training section.
If you have been asked and have agreed to officiating a wedding the first thing you need to do is get ordained with AMM. Our ordination is free, takes only a few minutes, and meets § RCW 26.04.050, giving you the legal ability to officiate wedding ceremonies.
Officiant Registration in Seattle
Minister Registration in Seattle — Ministers are not required to register with the King County Auditor's office or Seattle Municipal government before officiating weddings. Washington state law does not require ministers to register with any government office before or after performing marriage. That being said, we advise that you keep proof of your ordination for your own records. It is good practice to keep your ministry credentials on hand in case you are asked to produce them for the couple.
STEP 2: Prepare For Officiating the Wedding
Getting AMM ordained is the easy part. Your next step as the wedding officiant is to prepare for officiating the wedding ceremony. For first-time officiants, we recommend that you read through the officiant training pages on the American Marriage Ministries website. These resources cover all important aspects of performing marraige and is geared towards first-time officiants.
Whether you need to familiarize yourself with the parts of a wedding ceremony, learn how to write a wedding ceremony script, or clarify what exactly you need to do with the marriage license, AMM explains what you need to do. The fact that you found this website proves you are on the right track.
Keep in mind that practice makes perfect. The sooner you get started, the better prepared you will be when it comes time to officiate the wedding.
STEP 3: Officiate the Wedding
When it comes time to sign the marriage license, the couple has the responsibility to obtain the marriage license, but just be sure to double check that they have a valid marriage license before the ceremony and that all the names and other details are correct.
Once you have performed the ceremony and signed the marriage license, you have successfully performed all of your functions as the wedding officiant. As the officiant, it is your duty to return the marriage license to the Fulton County Clerk's office after the ceremony, and within 10 days of the ceremony.
For more details on filling in the individual fields such as "religious official title," check out our guide on how to complete a marriage license.
Seattle Wedding Logistics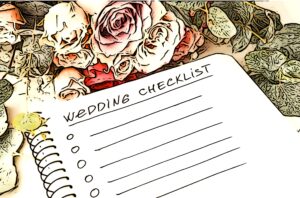 Seattle has it all. Mountains, Forests, Coastline, and wildlife if you're willing to get out of the city (orca whales!). All things considered, it's a great place to get married. August is the most popular month to tie the knot in Seattle, according to WeddingWire.
Before choosing a date, take some time to research the events and festivals going on in the city, if you want to avoid traffic and crowds, there are days you might want to pass on. Or, that might be just what you're looking for. MAjor events include Seattle Pride Parade, the Seattle International Beerfest, Emerald City ComiCon, the Seattle Marathon, and the Seattle Street Food Festival.
Getting Around
Seattle's closest airport is Seattle-Tacoma International (SEA), about 13 miles south of downtown Seattle, and is connected by a light rail transit system.
Public transportation in Seattle is easy to navigate. The light rail system runs throughout downtown and greater Seattle, including the airport. There are also streetcars, buses, and ride sharing companies.
Weather
While Seattle has a reputation for being one of the rainiest places in the country, there's one important caveat. During Summer, Seattle is one of the sunniest, and most picturesque locations in the country. That doesn't mean there isn't the lingering chance of rain, but most Summer days are beautiful. If you are planning an outdoor wedding, have a contingency for rain.
Seattle winters are colder with more rain. The average high temperature during the winter is around 50 degrees and it can dip into freezing territory…
Seattle Officiant FAQ
We want a relative or friend to perform our ceremony. What should we do?
As long as the relative or friend meets the criteria for wedding officiants described in Washington state law — such as being ordained by AMM — they can officiate your wedding ceremony without registration with King County or Washington State.
Can a child to be one of our witnesses in Washington State, if they are under 18?
The witness that signs a marriage license is putting their signature on a civil contract. That means they must be considered "competent," and for this purpose, the age of 18 is usually considered the cutoff. If you want to have persons under the age 18 witness the ceremony, we recommend having two other witnesses, who are over 18, who also observe the vows and sign the marriage certificates, since more than two witnesses can sign the certificate.
Can the three day waiting period be waived?
No. Washington State law mandates the license validity period of three days, and this cannot be waived for any reason. The license is only considered valid between the first and last dates on the license.
Seattle Marriage License Info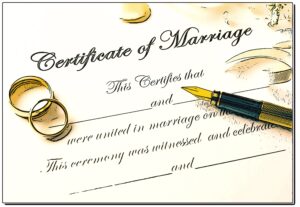 It is the couple's responsibility to file for the Washington Marriage License. That being said, below is important information regarding applying for a marriage license in King County. If you need more clarification on what is meant by "Waiting Period", "Expiration", and "Return", check out the Marriage License Definitions page on the American Marriage Ministries website.
Where do I file for the marriage license?
Marriage License Department
500 4th Ave Room 430
Seattle, WA 98104
How much does the marriage license cost?
$67
How long must I wait before completing my marriage license?
3 days to to receive your marriage license from the filing date.
When does the marriage license expire?
60 Days
Who returns the marriage license?
The Couple
When must the marriage license be returned after the wedding?
Before the marriage license expired (ASAP after the wedding).