Officiate Weddings in Orlando, Florida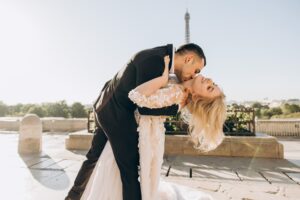 Disney's Magic Kingdom, Universal Studios, Sea World, Legoland, Epcot, and on. If you want a theme park wedding, Orlando, Florida is for you. Orlando happens to be one of the most popular places in the country to get married. And there are no shortage of wedding venue options and professionals to cater to your needs.
More important than where you choose to have your wedding is who you choose to officiate your wedding. Having a family member or friend get ordained to officiate your wedding as a wonderful way to add some magic to your wedding ceremony, whether you are getting married at the Magic Kingdom, at Universal Studios, or in your backyard.
American Marriage Ministries offers free ordination to people that want to officiate weddings for friends, family, and their community. And AMM already has thousands of ordained ministers who have officiated weddings in Orlando. Even better, ordination with AMM takes only a few minutes and they provide all the necessary resources to help train up first-time officiants. This page covers what you need to know to officiate a legally-binding wedding ceremony in Orlando. You want to make sure the marriage is legal. Let us walk you through this process.
STEP 1: Get Ordained with American Marriage Ministries
The Florida Statutes § 741.07 allows for the following officials to officiate weddings:
(1) All regularly ordained ministers of the gospel or elders in communion with some church, or other ordained clergy, and all judicial officers, including retired judicial officers, clerks of the circuit courts, and notaries public of this state may solemnize the rights of matrimonial contract, under the regulations prescribed by law. Nothing in this section shall make invalid a marriage which was solemnized by any member of the clergy, or as otherwise provided by law prior to July 1, 1978.
(2) Any marriage which may be had and solemnized among the people called "Quakers," or "Friends," in the manner and form used or practiced in their societies, according to their rites and ceremonies, shall be good and valid in law; and wherever the words "minister" and "elder" are used in this chapter, they shall be held to include all of the persons connected with the Society of Friends, or Quakers, who perform or have charge of the marriage ceremony according to their rites and ceremonies.
Not an ordained minister? No problemo. That's what we do here at American Marriage Ministries. Getting ordained online only takes a minute, and then you can legally perform weddings for friends, family, and anyone else that asks you to (oryou ask them). Click any of the "get ordained" links here on our website and get the ordination process taken care of.
Officiant Registration in Orlando
When it comes time to perform your duties as the officiant, Orange County may ask you to present your ministerial credentials, which AMM provides for a small fee. (You can call the county clerk's office before you perform the ceremony to ask if they will require you to bring the certificate in person.)
STEP 2: Prepare For Officiating the Wedding
Getting AMM ordained is the easy part. Your next step as the wedding officiant is to prepare for officiating the wedding ceremony. As the wedding officiant, there are two main things you need to prepare for:
Non-Legal Duty – Officiating the Wedding Ceremony
Legal Duty – Signing the Marriage License
Non-Legal Duties – You non-legal duties encompass all of the performative aspects of the wedding ceremony. How do I write a wedding ceremony? How do I get ready to perform marriage? What do I say at a wedding?
To learn the answers to all these questions and more, we recommend that you read through the officiant training pages on the American Marriage Ministries website. These resources cover all important aspects of performing marriage and is geared towards first-time officiants. You can also check out these pages for more ceremony prep info:
Keep in mind that practice makes perfect. The sooner you get started and the more time you allocate to practice, the better prepared you will be when it comes time to officiate the wedding.
Legal Duties – Your legal duties have everything to do with the marriage license. Your one legal job as the wedding officiant is to sign the marriage license for the couple. This is as simple as it sounds, kust complete and sign a piece of paper. That's it!
We understand how important it is to make sure the marriage license is properly completed. If you do find yourself confused by some of the fields on the marriage license, check out our page on How to Fill Out a Marriage License.
STEP 3: Officiate the Wedding
Regarding your performative duties, this is where you shine. If you have done your due diligence in preparing for the wedding ceremony, you will do an amazing job. In fact, you may have a lot more fun officiating a wedding than you might think. Many officiants that are AMM ordained to officiate one wedding eventually go on to officiating several. It's really a lot of fun!
Regarding the marriage license – The couple is responsible for applying for the marriage license. Make sure to double check with the couple before performing the ceremony. At some point on the wedding day, the couple must present to you their marriage license. Your job is to complete and sign it in their presence and any required witnesses. The marriage license can be completed before or after the ceremony, that doesn't matter. What does matter is that all the fields are completed properly and that it bears your signature.
Once the marriage license is properly signed, you have successfully performed all of your functions as the wedding officiant. Afterwards we recommend that you follow-up with the couple to make sure the marriage license has been returned to its issuance office.
Orlando Officiant FAQ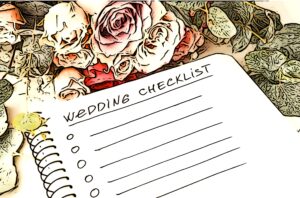 Orlando has a global draw, and like most tourist destinations, has it's high and low seasons. Due to this, it is important to check the events and festivals that are happening in the area before you book your wedding. That way you might be able to score deals, and avoid the biggest crowds.
Weather
The weather in Florida is warm and humid, but still sunny. It rains frequently, so check the weather and factor it into your plans. Additionally, most of the venues are air conditioned, so everyone should still be comfortable.
Orlando Marriage License Info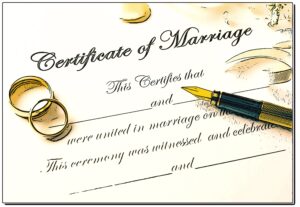 It is the couple's responsibility to file for the Florida Marriage License. That being said, below is important information regarding applying for a marriage license in Orange County. If you need more clarification on what is meant by "Waiting Period", "Expiration", and "Return", check out the Marriage License Definitions page on the American Marriage Ministries website.
Where do I file for the marriage license?
You can file for a marriage license at any of these following locations.
425 North Orange Ave, Orlando FL
1111 North Rock Springs Road, Orlando FL
684 S. Goldenrod Road, Orlando FL
475 Story Road, Orlando FL
450 Lakemont Ave, Orlando FL
How much does the marriage license cost?
$86
How long must I wait before completing my marriage license?
72 Hours for Florida Residents. No waiting period for out-of-state couples.
When does the marriage license expire?
60 Days
Who returns the marriage license?
The Couple
When must the marriage license be returned after the wedding?
Within 10 Days