Officiate Weddings in Denver, Colorado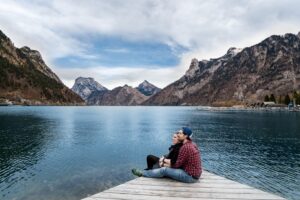 Denver is one of those cities that has a little bit of everything: an established arts scene, professional sports, and possibly more microbreweries than mountain peaks. All in all, Denver is one of the coolest places to get married. At least one could say it's "high" up on the list (because of the elevation, get it?).
Denver has a plethora of options regarding wedding venues — from fancy golf resorts, to historic mansions, to hiking out and eloping in the Rockies. No matter what particular vision you have for your wedding, what better way to give it that much more meaning than to have a close friend or family member officiate your wedding?
You may be surprised to learn that it is actually quite easy to officiate weddings in Denver by taking a few easy steps. In fact, in the state of Colorado there is no government registration for wedding officiants. This means that all you need to do to obtain the legal ability to officiate weddings in Colorado is to get ordained online. And better yet, it's free! Keep reading to learn exactly what you need to do to perform marriage in Denver.
STEP 1: Get Ordained with American Marriage Ministries
The Colorado Revised Statutes § 14-2-109 allows for the following officials to officiate weddings:
(1) A marriage may be solemnized by a judge of a court, by a court magistrate, by a retired judge of a court, by a public official whose powers include solemnization of marriages, by the parties to the marriage, or in accordance with any mode of solemnization recognized by any religious denomination or Indian nation or tribe. Either the person solemnizing the marriage or, if no individual acting alone solemnized the marriage, a party to the marriage shall complete the marriage certificate form and forward it to the county clerk and recorder within sixty-three days after the solemnization. Any person who fails to forward the marriage certificate to the county clerk and recorder as required by this section shall be required to pay a late fee in an amount of not less than twenty dollars. An additional five-dollar late fee may be assessed for each additional day of failure to comply with the forwarding requirements of this subsection (1) up to a maximum of fifty dollars. For purposes of determining whether a late fee shall be assessed pursuant to this subsection (1), the date of forwarding shall be deemed to be the date of postmark.
(2) (a) The requirements for applying for a marriage license for a proxy marriage are the following:
(I) One party to the proxy marriage is a resident of the state of Colorado;
(II) One party to the proxy marriage appears in person to apply for the marriage license and pays the fees required in section 14-2-106 (1);
(III) The signatures of both parties to the proxy marriage are required, and the party present shall sign the marriage license application, as prescribed in section 14-2-105 (2), and provide an absentee affidavit form, as prescribed by the state registrar, containing the notarized signature of the absent party, along with proper identification documents as specified in section 14-2-105 (1)(a) for the absent party; and
(IV) Both parties to the proxy marriage are eighteen years of age or older.
(b) If a party to a marriage is unable to be present at the solemnization, the absent party may authorize in writing a third person to act as the absent party's proxy for purposes of solemnization of the marriage, if the absent party is:
(I) A member of the armed forces of the United States who is stationed in another country or in another state in support of combat or another military operation; or
(II) An individual who is a government contractor, or an employee of a government contractor, working in support of the armed forces of the United States or in support of United States military operations in another country or in another state and who supplies proper identification of that status.
(c) If the person solemnizing the marriage is satisfied that the absent party is unable to be present and has consented to the marriage, such person may solemnize the marriage by proxy. If such person is not satisfied, the parties may petition the district court for an order permitting the marriage to be solemnized by proxy.
(3) Upon receipt of the marriage certificate, the county clerk and recorder shall register the marriage.
Let's start with the ordainment process. According to the office of the clerk and recorder, the following persons may perform wedding ceremonies in Colorado:
"an officiant who has been ordained or recognized by a religious denomination, a judge of a court, a retired judge, a court magistrate, a public official whose powers include solemnization of marriages, a Native American tribal official or a friend or relative who is ordained."
If you do not fall into any of these categories, we've got you covered. You can get ordained with AMM to qualify as an officiant within a religious denomination. The process is free and takes just a few minutes.
Officiant Registration in Denver
When it comes time to perform your duties as the officiant, Denver County may ask you to present documentation, which AMM provides for a fee. (You can call the office of the clerk and recorder's office before you perform the ceremony to ask if they will require you to bring the certificate in person.)
STEP 2: Prepare For Officiating the Wedding
Getting AMM ordained is the easy part. Your next step as the wedding officiant is to prepare for officiating the wedding ceremony. As the wedding officiant, there are two main things you need to prepare for:
Non-Legal Duty – Officiating the Wedding Ceremony
Legal Duty – Signing the Marriage License
Non-Legal Duties – You non-legal duties encompass all of the performative aspects of the wedding ceremony. How do I write a wedding ceremony? How do I get ready to perform marriage? What do I say at a wedding?
To learn the answers to all these questions and more, we recommend that you read through the officiant training pages on the American Marriage Ministries website. These resources cover all important aspects of performing marriage and is geared towards first-time officiants. You can also check out these pages for more ceremony prep info:
Keep in mind that practice makes perfect. The sooner you get started and the more time you allocate to practice, the better prepared you will be when it comes time to officiate the wedding.
Legal Duties – Your legal duties have everything to do with the marriage license. Your one legal job as the wedding officiant is to sign the marriage license for the couple. This is as simple as it sounds, kust complete and sign a piece of paper. That's it!
We understand how important it is to make sure the marriage license is properly completed. If you do find yourself confused by some of the fields on the marriage license, check out our page on How to Fill Out a Marriage License.
STEP 3: Officiate the Wedding
Regarding your performative duties, this is where you shine. If you have done your due diligence in preparing for the wedding ceremony, you will do an amazing job. In fact, you may have a lot more fun officiating a wedding than you might think. Many officiants that are AMM ordained to officiate one wedding eventually go on to officiating several. It's really a lot of fun!
Regarding the marriage license – The couple is responsible for applying for the marriage license. Make sure to double check with the couple before performing the ceremony. At some point on the wedding day, the couple must present to you their marriage license. Your job is to complete and sign it in their presence and any required witnesses. The marriage license can be completed before or after the ceremony, that doesn't matter. What does matter is that all the fields are completed properly and that it bears your signature.
Once the marriage license is properly signed, you have successfully performed all of your functions as the wedding officiant. Afterwards we recommend that you follow-up with the couple to make sure the marriage license has been returned to its issuance office.
Denver Wedding Planning Logistics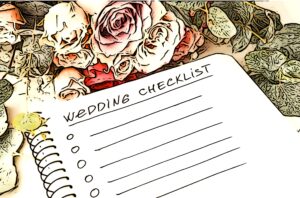 Denver is a happening city with a growing list of annual events. So, you'll want to avoid choosing a wedding day in which another major event is scheduled near your venue of choice. You can use this online tool to do so.
Speaking of venues, the list of Insta-pic worthy wedding spaces in the Denver area will make your head spin. There are a number of stunning wineries, charming breweries and elegant resorts that make for perfect spots to throw a banger reception, not to mention the countless outdoor options the featuring gorgeous mountain backdrops that Colorado is known for.
You'll want to visit Denver's blog recommendations to start your research, but make sure to look at some of the more niche options, like the Hangar at Stanley. (Yes, like an airplane hangar.) Oh, so hipster chic.
Transportation
Denver's Regional Transportation District, the RTD, provides bus, and light rail services for the greater Denver-Aurora-Boulder area. If you want to get around with public transportation, this is one option. Of course, Lyft and Uber are also available in Denver, so you'll be able to be able to get a ride in a snap.
Weather
Another thing to love about Colorado? Its mild weather. The alpine desert's altitude and proximity to the mountains keep Denver mild year round. The state sees about 300 days of sun a year. During winter months, it can cool down to the 30s and 40s during the day, but it's not uncommon to have a 60 degree day in the winter in Colorado.
Denver Marriage License Info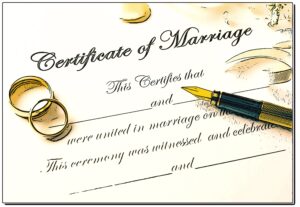 It is the couple's responsibility to file for the Colorado Marriage License. That being said, below is important information regarding applying for a marriage license in Denver County. If you need more clarification on what is meant by "Waiting Period", "Expiration", and "Return", check out the Marriage License Definitions page on the American Marriage Ministries website.
Where do I file for the marriage license?
Webb Municipal Building
201 W Colfax Ave
Denver, CO 80202
How much does the marriage license cost?
$60
How long must I wait before completing my marriage license?
None
When does the marriage license expire?
35 Days
Who returns the marriage license?
The Couple
When must the marriage license be returned after the wedding?
Within 10 Days