Officiate Weddings in Dallas, Texas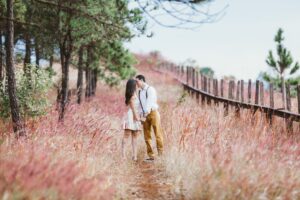 If you are looking for the city to have the quintessential American wedding, then look no further than Dallas, Texas. Dallas has so much more to offer than just the Dallas Cowboys. Think world famous BBQ, beautiful parks, and horseback trails, to name a few highlights. And what better way to infuse your wedding with the spirit of American Individualism than to have a friend or family member as the officiant?
In fact, American Marriage Ministries Founder and President Glen Yoshioka officiated a wedding in Dallas for his childhood best friend in Dallas. So now that you know such a thing is possible, what are you waiting for?
On this page we will cover how to get ordained to officiate weddings in Dallas. And it may surprise you that becoming a wedding officiant is much easier than you might think. There is no officiant registration in Texas so all you need to do to obtain the legal ability to perform marriage is to get ordained online. Without further ado, let's go over the steps you need to take to marry people in Dallas.
STEP 1: Get Ordained with American Marriage Ministries
The Texas Statutes § Sec. 2.202 allows for the following officials to officiate weddings:
(a) The following persons are authorized to conduct a marriage ceremony:
(1) a licensed or ordained Christian minister or priest;
(2) a Jewish rabbi;
(3) a person who is an officer of a religious organization and who is authorized by the organization to conduct a marriage ceremony; and
(4) a justice of the supreme court, judge of the court of criminal appeals, justice of the courts of appeals, judge of the district, county, and probate courts, judge of the county courts at law, judge of the courts of domestic relations, judge of the juvenile courts, retired justice or judge of those courts, justice of the peace, retired justice of the peace, judge of a municipal court, or judge or magistrate of a federal court of this state.
(b) For the purposes of this section, a retired judge or justice is a former judge or justice who is vested in the Judicial Retirement System of Texas Plan One or the Judicial Retirement System of Texas Plan Two or who has an aggregate of at least 12 years of service as judge or justice of any type listed in Subsection (a)(4).
(c) Except as provided by Subsection
(d), a person commits an offense if the person knowingly conducts a marriage ceremony without authorization under this section. An offense under this subsection is a Class A misdemeanor.
(d) A person commits an offense if the person knowingly conducts a marriage ceremony of a minor whose marriage is prohibited by law or of a person who by marrying commits an offense under Section 25.01, Penal Code. An offense under this subsection is a felony of the third degree.
If you have been asked to officiating a wedding, your first step is to get ordained with American Marriage Ministries. AMM Ordination is free, takes only a few minutes, and meets the Texas Statute § Sec. 2.202, giving you the legal ability to officiate wedding ceremonies.
Once ordained with AMM you will qualify to officiate weddings within the category of religious leaders. Our ordination authorizes you to officiate weddings in Texas (and everywhere else in the US). The process takes just a few minutes and is free!
Officiant Registration in Dallas County
Ministers are not required to register with the Dallas County Clerk before officiating weddings. Texas law does not require minister registration with the state. However, if you are performing marriage in the capacity of a minister or other religious official, the State of Texas requires that you be ordained, such as through AMM. We advise that you keep proof of your ordination for your own records. It is good practice to keep your ministry credentials on hand in case you are asked to produce them for the couple.
STEP 2: Prepare For Officiating the Wedding
Getting AMM ordained is the easy part. Your next step as the wedding officiant is to prepare for officiating the wedding ceremony. As the wedding officiant, there are two main things you need to prepare for:
Non-Legal Duty – Officiating the Wedding Ceremony
Legal Duty – Signing the Marriage License
Non-Legal Duties – You non-legal duties encompass all of the performative aspects of the wedding ceremony. How do I write a wedding ceremony? How do I get ready to perform marriage? What do I say at a wedding?
To learn the answers to all these questions and more, we recommend that you read through the officiant training pages on the American Marriage Ministries website. These resources cover all important aspects of performing marriage and is geared towards first-time officiants. You can also check out these pages for more ceremony prep info:
Keep in mind that practice makes perfect. The sooner you get started and the more time you allocate to practice, the better prepared you will be when it comes time to officiate the wedding.
Legal Duties – Your legal duties have everything to do with the marriage license. Your one legal job as the wedding officiant is to sign the marriage license for the couple. This is as simple as it sounds, kust complete and sign a piece of paper. That's it!
We understand how important it is to make sure the marriage license is properly completed. If you do find yourself confused by some of the fields on the marriage license, check out our page on How to Fill Out a Marriage License.
STEP 3: Officiate the Wedding
Regarding your performative duties, this is where you shine. If you have done your due diligence in preparing for the wedding ceremony, you will do an amazing job. In fact, you may have a lot more fun officiating a wedding than you might think. Many officiants that are AMM ordained to officiate one wedding eventually go on to officiating several. It's really a lot of fun!
Regarding the marriage license – The couple is responsible for applying for the marriage license. Make sure to double check with the couple before performing the ceremony. At some point on the wedding day, the couple must present to you their marriage license. Your job is to complete and sign it in their presence and any required witnesses. The marriage license can be completed before or after the ceremony, that doesn't matter. What does matter is that all the fields are completed properly and that it bears your signature.
Once the marriage license is properly signed, you have successfully performed all of your functions as the wedding officiant. Afterwards we recommend that you follow-up with the couple to make sure the marriage license has been returned to its issuance office.
Dallas Wedding Planning Logistics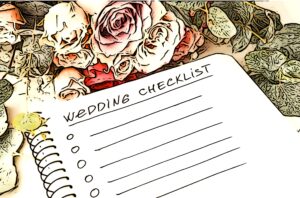 The city of Dallas provides a wide array of venues that run the gamut from luxury hotels, to provincial country clubs, to rustic barn spaces. Whether you're planning a laid back country-western hoedown or a formal black-tie affair, Dallas has you covered.
Take note of the various festivals that take place throughout the year, like the Dallas International Film Festival in May, the State Fair of Texas during the fall, and the Pride parade in June, which may draw in extra crowds and hike up hotel prices. It's better to plan your event outside the dates of these highly attended Dallas traditions.
Transportation
We love Dallas, though the city is not known for having good public transportation. This is an important consideration depending on where your guests are staying. Dallas is a sprawl and it can easily take 45 minutes or more to get from one side of the city to the other.
Weather
With four distinct seasons to consider, the city's climate is important is also a factor in choosing your wedding venue. Temperatures can soar during summer months. Winter  and autumn are mild with daytime highs averaging at about 65°F. Spring temperatures are usually bearable, but the season is known for thunderstorms, so if you are planning an outdoor wedding, mitigating for a potential downpour during festivities is a good idea.
Dallas Marriage License Info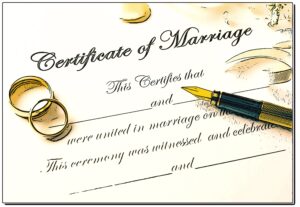 It is the couple's responsibility to file for the Texas Marriage License. That being said, below is important information regarding applying for a marriage license in Dallas County. If you need more clarification on what is meant by "Waiting Period", "Expiration", and "Return", check out the Marriage License Definitions page on the American Marriage Ministries website.
Where do I file for the marriage license?
Dallas County Clerk's Office
1201 Elm St
Dallas, TX 75270
How much does the marriage license cost?
$81
How long must I wait before completing my marriage license?
72 Hours
When does the marriage license expire?
89 Days
Who returns the marriage license?
The Couple
When must the marriage license be returned after the wedding?
Within 10 Days