Officiate Weddings in Atlanta, Georgia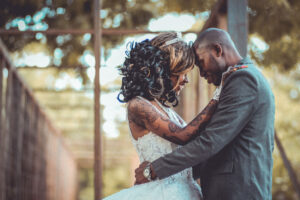 Atlanta, Georgia was ranked among the top cities in the US to get married in WalletHub's 2018 list of best places to get married in America. This means that couples planning for their wedding have plenty of options for amazing venues, seasoned wedding planners, and much more to create an amazing "Hotlanta" wedding.
More important than where your wedding takes place is who officiates your wedding. Having a friend or family member get ordained to officiate your wedding is probably the easiest thing you can do to make your wedding day that much more meaningful.
American Marriage Ministries ordains people to officiate weddings and has thousands of ordained ministers in the Atlanta area. Best of all, ordination with "AMM" is free and they provide a plethora of resources to help train up first-time officiants. Continue reading to gain an understanding of the important facts you need to know before officiating a legally-binding wedding ceremony in Atlanta. You absolutely want to make sure the wedding is legal and we will walk you through the process.
STEP 1: Get Ordained with American Marriage Ministries
The Georgia Code Annotated § 19-3-42 allows for the following officials to officiate weddings:
A marriage which is valid in other respects and supposed by the parties to be valid shall not be affected by want of authority in the minister, Governor or any former Governor of this state, judge, city recorder, magistrate, or other person to solemnize the same; nor shall such objection be heard from one party who has fraudulently induced the other to believe that the marriage was legal.
Georgia marriage law stipulates that licensed or ordained ministers, clergymen, or pastors of recognized religious societies, and justices of the peace. As an ordained minister of American Marriage Ministries, you may legally perform weddings in Atlanta, and in the State of Georgia. Since local government officers may ask for proof of your credentials, we recommend that you purchase a Minister Ordination Package, which contains full proof of accreditation, as well as detailed document filing and officiating instructions.
After getting ordained, the state of Georgia does not require any additional registration process. This means that your next step is to prepare for the ceremony. That requires meeting with the couple (either in-person or via email) to get a feel for what kind of ceremony they want, and collecting important details like how they fell in love, what kind of life they want to build together, and how they want the ceremony to reflect their worldview. For more information on this, check out our wedding training section.
Finally, you will need to perform the actual ceremony. That also means signing the marriage license after the ceremony. Since the marriage license is an important legal document, ensure that all the information is presented correctly before you sign your signature. Want more details? We've got lots of tips on our blog, and across the website that will help you feel prepared and calm when the moment comes. Good Luck!
Officiant Registration in Atlanta
When it comes time to perform your duties as the officiant, Fulton County may ask you to present your ministerial credentials, which AMM provides for a small fee. (You can call the county clerk's office before you perform the ceremony to ask if they will require you to bring the certificate in person.)
Getting AMM ordained is the easy part. Your next step as the wedding officiant is to prepare for officiating the wedding ceremony. As the wedding officiant, there are two main things you need to prepare for:
Non-Legal Duty – Officiating the Wedding Ceremony
Legal Duty – Signing the Marriage License
Non-Legal Duties – You non-legal duties encompass all of the performative aspects of the wedding ceremony. How do I write a wedding ceremony? How do I get ready to perform marriage? What do I say at a wedding?
To learn the answers to all these questions and more, we recommend that you read through the officiant training pages on the American Marriage Ministries website. These resources cover all important aspects of performing marriage and is geared towards first-time officiants. You can also check out these pages for more ceremony prep info:
Keep in mind that practice makes perfect. The sooner you get started and the more time you allocate to practice, the better prepared you will be when it comes time to officiate the wedding.
Legal Duties – Your legal duties have everything to do with the marriage license. Your one legal job as the wedding officiant is to sign the marriage license for the couple. This is as simple as it sounds, kust complete and sign a piece of paper. That's it!
We understand how important it is to make sure the marriage license is properly completed. If you do find yourself confused by some of the fields on the marriage license, check out our page on How to Fill Out a Marriage License.
STEP 3: Officiate the Wedding
Regarding your performative duties, this is where you shine. If you have done your due diligence in preparing for the wedding ceremony, you will do an amazing job. In fact, you may have a lot more fun officiating a wedding than you might think. Many officiants that are AMM ordained to officiate one wedding eventually go on to officiating several. It's really a lot of fun!
Regarding the marriage license – The couple is responsible for applying for the marriage license. Make sure to double check with the couple before performing the ceremony. At some point on the wedding day, the couple must present to you their marriage license. Your job is to complete and sign it in their presence and any required witnesses. The marriage license can be completed before or after the ceremony, that doesn't matter. What does matter is that all the fields are completed properly and that it bears your signature.
Once the marriage license is properly signed, you have successfully performed all of your functions as the wedding officiant. Afterwards we recommend that you follow-up with the couple to make sure the marriage license has been returned to its issuance office.
Atlanta Officiant FAQ
What are the requirements for getting a marriage license in Atlanta, Georgia?
In order to be issued a marriage license in Atlanta, Georgia, both partners must be at least 18 years of age and single. In addition, the Probate Courts require government issued identification, such as a driver's license, passport, or birth certificate.
What documents are wedding officiants required to present in order to sign marriage certificates and perform legal weddings?
Wedding officiants in Atlanta, Georgia must either be justices of the peace, or be "licensed or ordained ministers, clergymen, or pastors of recognized religious societies." In the event that local clerks request proof of ordination, we recommend that you purchase your Minister Ordination Package to make sure that you don't get caught without your required credentials when it's time to perform a wedding.
What additional requirements do couples need to meet if if one or both of them have been divorced?
Deleted: If either partner has been married previously, you will need to present documentation relating to your previous marriage. That includes documents such as a divorce decree or death certificate.
What is the marriage license fee for a marriage license in Atlanta, Georgia?
Deleted: To be issued a marriage license in Atlanta, Georgia, the couple are required to pay the marriage license fee of $56.00. This fee can be waived if the couple has completed a qualifying premarital education program before applying for your marriage license. The couple must still pay a reduced marriage license fee of $16.00.
Does the State of Atlanta require the couple to present blood tests as part of the marriage license application?
No, the county probate courts do not require blood tests as part of the marriage license application.
Deleted:
Is there a waiting period after we receive our marriage license in Atlanta, Georgia?
Deleted: There is no waiting period before being issued a marriage license in Atlanta, Georgia. The couple can have the ceremony and use the marriage license as soon as the license has been issued.
Who can we ask to perform our wedding ceremony in Atlanta, Georgia?
Any authorized officiant is allowed to perform wedding ceremonies in Atlanta, Georgia. AMM ministers meet this requirement and can perform legally binding wedding ceremonies across the state. Many other religious clergy members are authorized. We recommend that the couple ask for proof of ordination, and that the minister have a copy of his or her credentials on hand.
How long is the marriage license valid for?
In many counties in Georgia, marriage licenses are valid for a period of 6 months. Contact your local County Probate Court for more information and factor the expiration date into your wedding planning. You don't want to perform the wedding only to find out that your license has expired!
How do we get our marriage certificate in Atlanta, Georgia?
After the wedding ceremony has been performed and the marriage license has been signed and returned to the County Probate Court in Atlanta, the Court will issue your marriage certificate. For additional copies, the court charges a fee of $10.00. In order to have additional copies of your marriage certificate mailed to you, you must provide a self-addressed stamped envelope.
Atlanta Marriage License Info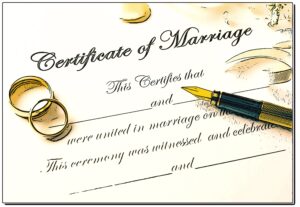 It is the couple's responsibility to file for the Georgia Marriage License. That being said, below is important information regarding applying for a marriage license in Fulton County. If you need more clarification on what is meant by "Waiting Period", "Expiration", and "Return", check out the Marriage License Definitions page on the American Marriage Ministries website.
Where do I file for the marriage license?
Fulton County Courthouse
136 Pryor St SW
Atlanta, GA 30303
How much does the marriage license cost?
$56
How long must I wait before completing my marriage license?
None
When does the marriage license expire?
The marriage license does not expire.
Who returns the marriage license?
The Couple
When must the marriage license be returned after the wedding?
Within 30 Days